Hey everyone! I hope y'all are having a fantastic week. Today, I wanted to share a great recipe for cabbage lasagna. Talk about a carb cutter! 😉 Instead of lasagna noodles, you'll be using cabbage leaves. It's really good!
Ingredients:
1 large head cabbage, leaves separated
2 tbsp. extra-virgin olive oil, plus more for baking dish
1 onion, chopped
2 cloves garlic, minced
1 1/2 lb. ground beef
1 (28-oz.) can crushed tomatoes
1 tbsp. balsamic vinegar
Salt
Freshly ground black pepper
3 c. ricotta
2 eggs, beaten
1/4 c. grated Parmesan, plus more for serving
3 c. shredded mozzarella
Instructions:
Preheat oven to 350°. In a large pot, boil 4 cups water. Using tongs, dip each cabbage leaf in water for 30 seconds and place on a paper towel-lined plate to dry. If desired, use a paring knife to remove thicker ribs of cabbage leaves.
In a large skillet over medium heat, heat oil. Add onion and cook until onion is soft, about 5 minutes. Stir in garlic and ground beef, breaking up meat with a wooden spoon. Cook until beef is no longer pink, about 6 minutes; drain excess fat. Add crushed tomatoes and balsamic vinegar. Bring mixture to boil then reduce heat and simmer for 20 minutes. Season with salt and pepper.
In a medium bowl, combine ricotta, eggs, and Parmesan. 
Grease a large baking dish with olive oil. Spoon a thin layer of sauce into bottom of baking dish. Add a layer of cabbage leaves, then top with more sauce, ricotta mixture, and mozzarella. Repeat layering twice more. 
Bake until cabbage is tender and mozzarella is bubbly, about 25 minutes.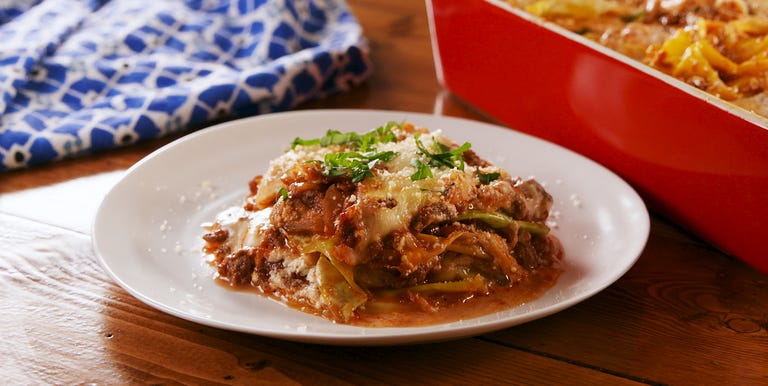 I found this recipe from Delish.